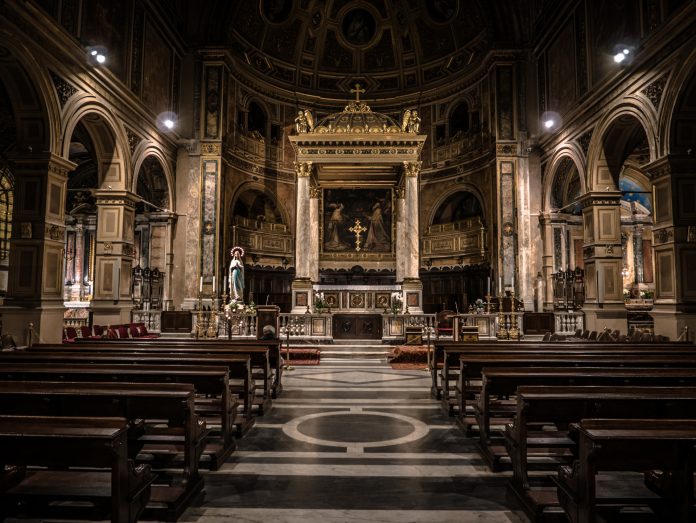 Maybe losing access to our buildings as church leaders wasn't as disastrous as we thought. Church growth just spiked by 300% in the last month.
Sure…so much as happened. And as frazzled and exhausted as you might feel in the midst of the current global crisis, a fascinating statistic emerged last week that you don't want to miss.
49% of all churches are growing right now.
A month earlier, before the pandemic hit the West, the statistic would have been that between 8-15% of all churches were growing.
So literally in 30 days, we've moved from a tiny percentage of churches growing to virtually half of all churches growing.
What's even more surprising is that the growth trend holds up in every church size category.
According to the weekly polling we're doing through Church Pulse Weekly (my new podcast/project with Barna and Gloo you can participate in), half of all churches, regardless of church size—from very small churches (under 100) to megachurches—are experiencing growth. It's remarkable that this is true if you have 75 people attending, 750 or 7500.
Two questions.
So why is this happening, and what can we learn from it?
Here are three reasons it's happening now and a few things you can do to respond.Half of all churches, regardless of church size—from very small churches (under 100) to megachurches—are experiencing growth during the pandemic. It's remarkable that this is true if you have 75 people attending, 750 or 7500.
1. THERE'S A BIG SPIKE IN SPIRITUAL CURIOSITY
Since mid-March 2020, two things have happened:
The world has changed dramatically
People's personal worlds have been deeply altered and, in some cases, collapsed.
Between health concerns, family and friends falling ill, massive job loss, quarantine, lockdown, social isolation and a loss of income, freedom and autonomy, people are reeling.
But rather than turning people away from God, the situation instead appears to have people turning toward God. Google searches for prayer, church, God, church online and other related terms have spiked significantly. Similarly, YouVersion has seen a significant spike in installs and usage since the pandemic began.
Although it's hard to tell who's who online, church leaders need to realize (fast) that the people joining you online are not just your people, they're new people. Curious people. Unchurched people. Lapsed Christians. Atheists. Agnostics.
The collapse of so many people's worlds have got them asking deeper questions, and, thank God, they're still looking to the church to help.
Instead of seeing online church as an obstacle, many church leaders are realizing it's an unprecedented opportunity.
As much as many leaders are still reeling from not having access to their physical building, in the next month, many more should pivot toward realizing some of their deepest prayers to reach people are being answered, just not in a way they ever would have expected.
Naturally, you need to follow up, connect with people and build relationships with them, even online. This post has a few ideas on how to do that.
But know this: the people you prayed would show up are showing up. Lean into that.
2. PEOPLE SEE DIGITAL AS REAL
Even pre-COVID, life was slipping seamlessly between the digital and the analog.
But crisis is an accelerator and that's now even more true than at any point in human history. The digital just took a massive leap forward.
Think about it. You're reading this on your phone or on your laptop. But in the next 30 minutes you'll make an in-person connection, swinging into the kitchen with your family or chatting with a neighbour from 10 feet back (of course).
In 2020, life slips between the digital and the physical, and then physical slips back into digital. We all live there.
So will the future church.
Prior to COVID-19, most churches were still anchored in the past—gather here at a set time and we can be the church. Miss it, and well, you miss it. But as more and more churches move seriously into online and social, that will change.
In the future, the church will meet any time, anywhere, and sometimes meet in person.
Online will be available any time. And, when physical gatherings open up again, you'll have set times for in-person gatherings.
But in the future church, digital will supplement, enhance, expand and sometimes replace your local gatherings as people slip seamlessly between the digital world and in the in-person world.
If people live that way, so should the church.
3. DIGITAL CHURCH HAS A MUCH LOWER BARRIER TO PARTICIPATION
One of the reasons churches have seen the recent growth spike is that digital church has a much lower participation barrier than physical church.
One click-away is so much easier to access than even one mile away.
To go to church physically requires everything from getting dressed, pulling the kids together, jumping in your SUV and driving x miles to a physical location.
Plus, it's intimidating. So much is unknown when you go anywhere for the first time. Don't get me wrong… physical church is great, but the barriers are real.
To access digital church, all you need to do is click on a link.
This just accelerates a trend that had started years ago.
Most churches that have had an online presence over the last decade discovered that almost all their new first time guests to their physical locations had been attending online first.
What's been normative for a few churches for years is about to become normative for the majority of churches.
4. ONLINE CHURCH SCALES IN A WAY PHYSICAL CHURCH SIMPLY CAN'T
Churches (and organizations) who are leaning into digital during this crisis rather than just using it as a bandaid until things get back to normal are discovering an amazing truth: digital scales in a way analog doesn't.
Not sure digital scales? Well, Instagram had 40 million users when it was purchased by Facebook for $1 billion in 2012. That's impressive. Even more impressive: they did that with 13 employees.
YouVersion, which launched as an idea a decade ago, has over 400 million installs and is run by a team at a local church.
Digital scales in a way that analog doesn't.
And if you're serious about reaching people, taking digital seriously simply makes sense.
Online church transcends geographic, physical and time barriers in a way that analog doesn't.
And, if you do it well, digital can point people to real-life experiences: groups, weekend gatherings, personal connections—all of which are necessary and vital to life.
Growing churches will lean into digital far more heavily than in the past.
5. THE FINANCIAL INVESTMENT FOR DIGITAL MINISTRY IS MUCH LOWER THAN THE FINANCIAL INVESTMENT FOR PHYSICAL MINISTRY
So how much does it cost to launch a new physical location? At a bare minimum for most churches, you're looking at $250,000 to launch a portable campus. Many spend millions more.
Fresh question: how much did it cost you to get online?
In some cases, $20. Probably in the most extreme cases, for churches that flipped the switch during the pandemic, about $2000 for some new gear.
Here's the reality of life on the internet: you can reach thousands or millions of people using the phone in your pocket for almost zero additional dollars.
I'm not saying physical ministry is going away. Of course it's not. We're relational beings.
But if you're looking at investing in digital or physical space in the future, you may want to think serious about digital as well. It's far cheaper and can have a major impact.
Not sure how to staff it? You can subscribe to a digital media service to help with your social media and online presence for less about the same cost as a monthly catered team lunch, or hire three digital staff of your own a fraction of the cost of launching a new physical location.
Digital may seem intimidating and expensive, but it's far cheaper and easier than most church leaders think. Just ask any 14-year-old YouTuber.
And of course, the more you invest, the greater your odds of seeing returns.
If you're wondering what you might spend on digital ministry in the future, check out this post from 2019 in which I recommended (even pre-COVID) that churches spend 30% of their staff budget on online ministry.
People thought that was crazy then. It may seem less crazy now.Digital may seem intimidating and expensive, but it's far cheaper and easier than most church leaders think. Just ask any 14-year-old YouTuber.CLICK TO TWEET
DON'T LET THE CRISIS OVERWHELM YOU. ACCESS MY NEW COURSE FOR FREE.
I get it. You're scared. These are deeply uncertain times.
As hard as it is to admit, it's just really hard to know how to lead in times like these.
While no one has all the answers, there is help and a strategy that can guide you, and I'd love to come alongside you.
To that end, I've got a brand new online, on-demand course, called How To Lead Through Crisis, that can help you lead your team, your church and yourself through the massive disruption.
The course is the gift from me and my team to you and leaders everywhere. In light of everything that's going on, we decided to make it available 100% free.
Inside How To Lead Through Crisis, you'll learn how to:
Cultivate a non-anxious presence that inspires confidence and trust.
Care for yourself so the crisis doesn't break you.
Master the art of fast-paced, clear decision making.
Gather and interpret the most reliable data that will advance your mission
Advance digitally to scale past physical barriers and grow your outreach.
Lead your team and congregation remotely
While no one has all the answers in a crisis this big, in the course, I share the mindsets, habits, tools and strategies that I believe will help you lead through crisis to get you and the people you lead to a new (and better) future.
Join the 6000 leaders who have claimed their place in the course for free.
You can enroll and get instant access for you and your team here.
CRISIS BLOG SERIES AND THE FUTURE CHURCH
I also have a free blog post series on the current global crisis and how the church can respond:
Crisis Leadership, Christian Leadership and the Corona Virus
How to Lead Through Rapid, Unexpected Change
8 Ways to Lead in the New Digital Default Church
5 Ways The Current Crisis is Accelerating The Arrival of the Future Church
My Top 7 Rules for Leading a Digital Team
3 Simple Ways To Make Sure You Don't Break In the Crisis
8 Early Tips for Producing Digital Content During the Current Crisis
Why Motivation Alone Won't Get Your People (Or You) Through This Crisis
The Three Kinds of Leaders You See In A Crisis
5 Predictions About the Future Church While Everything's Unknown
5 Quick Things That Can Make a Long Term Difference During Your First Digital Easter
Hope this helps you and your team lead well in a very challenging season.
WHAT ARE YOU SEEING?
What are you seeing in the midst of the sudden growth spike, and how are you leveraging it?
Scroll down and leave a comment!