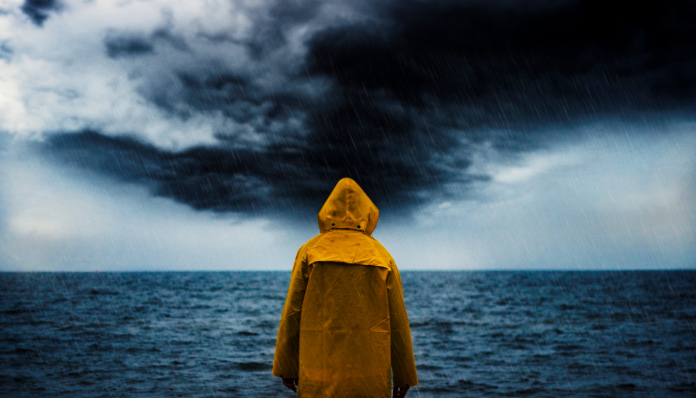 Storms come and go. But one thing is certain; they do come. II Timothy 3:12 declares, "Yea, and all that will live godly in Christ Jesus shall suffer persecutions." Since storms are inevitable, we better know not only how to weather them, but how to come out on top. Why does it seem that when we make decisions to live godly, to apply the Word, that "all hell breaks loose"? Jesus told us why. He said, "Afflictions and persecutions arise for the Word's sake" (Mark 4:17). The Amplified Bible says, "Trouble or persecution arises on account of the Word." The devil hates the Word of God. It is the very power that conquers him. So he stirs up trouble. He sends circumstances, people and problems our way to get us to let go of our faith! But Jesus declared us blessed even when persecuted, "Blessed are they which are persecuted for righteousness' sake: for theirs is the kingdom of God" (Matthew 5:10).
Just like a seed that is planted in the ground, the devil wants to uproot truths of God's Word before they bear fruit in us. So don't be surprised by the challenges that come. Don't let the difficulties conquer you. Don't give your place of authority in Christ Jesus over to the devil by surrendering to the circumstances. In the midst of the raging storm, refuse to let go of God's Word, for He will not relax His hold on you.
You may be facing challenges even now as you read this article. My advice to you is to go back to the Word, pray through every assault of the devil, and remain true to God. Your victory will come. Peter wrote, "Beloved, think it not strange concerning the fiery trial that is to try you, as though some strange thing happened unto you: But rejoice, inasmuch as ye are partakers of Christ's sufferings" (1 Peter 4:12-13). The Amplified Bible says, "Beloved, do not be amazed and bewildered at the fiery ordeal which is taking place to TEST YOUR QUALITY, as though something strange—unusual and alien to you and your position—were befalling you."
Don't think it is odd when problems come, as though something must be wrong. It might well be because you are doing something right. The trouble could be there to get you to back off, to shut up, and to let go of the Word. This is a battle, not the Boy Scouts. II Timothy 2:3 declares, "Thou therefore endure hardness as a good soldier of Jesus Christ." The Message Bible says,"When the going gets rough, take it on the chin with the rest of us, the way Jesus did."
In II Corinthians 4:8-9, we see that conflicts come as a result of walking with God. "We are troubled on every side, yet not distressed; we are perplexed, but not in despair; persecuted, but not forsaken; cast down, but not destroyed." Other translations say: "Troubles are around us on every side, but we are not shut in" (BAS); "We are persecuted, but we never have to stand alone" (Phillip's); "Hunted down, but God never abandons us" (Taylor's); "Always getting a knockdown, but never the knockout" (William's).God promised in His Word that He will never leave us in the midst of adversity but will always deliver us out into victory. Psalm 34:19 tells us, "Many are the afflictions of the righteous: but the Lord delivereth him out of them all." The Amplified Bible says, "Many evils confront the consistently righteous, but the Lord delivers him out of them all."
True, some problems in life are self-inflicted. But if you are facing adversity because you are seeking God's will and walking obediently, then it must be spiritual opposition. Ephesians 6:10-12 reminds us that we do not wrestle against flesh and blood, but spiritual powers. Remember that Satan comes; and he comes to steal, kill and destroy anything God is doing in our lives. But rejoice, because Jesus came to give us life that is abundant, overcoming (John 10:10). Here are a few lifelines to help pull you through the storm.
Don't be Shocked
That's half the battle right there! According to the Word, difficulties and challenges are a part of the Christian walk. Job 5:7 declares, "Man is born unto trouble, as the sparks fly upward." Then in 1 Peter 4:12 we read, "Dear friends, don't be bewildered or surprised when you go through the fiery trials ahead, for this is no strange, unusual thing that is going to happen to you" (Living Bible). If you are not alert, you may think that something is wrong with you. Remember that we are, "partakers of Christ's sufferings." This is not suffering for Jesus with sickness, disease and fear. This is the suffering that comes from the devil's opposition to the Word of God alive in us. Jesus constantly came up against the devil. He had opposition from ungodly and religious people. Just do as He did and keep on keeping on in what is right. You will weather the storm without it weathering you.
Your Battle is not with Flesh and Blood
Don't allow yourself to become confused by the vehicle trouble may come through. The Bible says we should not be ignorant of Satan's devices (II Corinthians 2:11). Spiritual attacks come from spiritual forces (Ephesians 6:10-12). Satan will try to bring trouble or storms to you through individuals that will yield to him to afflict you. We all have the choice whose instrument we will be. We're commanded, "Neither yield your members as instruments of unrighteousness unto sin, but yield yourselves unto God…"(Romans 6:13).
Don't get entangled with people. Stay in the love of God. Pray for them and speak blessings over them (1 Corinthians 13:4-8, 1 Peter 3:9, Romans 5:5). Do battle God's way. Refuse to fall into the devil's trap of handling things in the natural. You'll come out on top. Notice how Paul handled himself, "Alexander the coppersmith did me much evil: the Lord reward him according to his works" (II Timothy 4:14). In other words, Paul left Alexander's fate in God's hands. The New English Bible states, "Retribution will fall upon him from the Lord."
Hold the Wheel and Stay the Course
A storm can easily change the course of a ship at sea. The captain must keep his hand on the wheel to keep it steady. If he lets go, the storm has won. "Therefore, my beloved brethren, be ye steadfast, unmovable, always abounding in the work of the Lord, forasmuch as ye know that your labour is not in vain in the Lord" (1 Corinthians 15:58). The Message Bible says, "Stand your ground and don't hold back. Throw yourself into the work of the Master." The Williams translations states "…continue to be firm, incapable of being moved." Don't let anything or anyone else direct your course contrary to the Lord and His Word. "Submit yourselves therefore to God. Resist the devil, and he will flee from you" (James 4:7). Keep yourself under God's hand. Do it His way all the time – when it's easy and when it's not. Your obedience resists and repels the devil.
Keep your Composure
Have you ever heard, "Don't panic; stay calm!"? Good advice. Things are rarely as bad as they seem and the storm will pass you by. II Corinthians 5:7 reminds us that we "walk by faith and not by sight." The Twentieth Century translation declares, "For we guide our lives by faith, AND NOT WHAT WE SEE." When we walk according to what we see, the storm can look too big to handle. But when we walk with the Word of God as our final authority, then the storm has to blow over.
The Holy Spirit told Paul that bonds and afflictions awaited him in Jerusalem. But look at his attitude, "But NONE OF THESE THINGS MOVE ME, neither count I my life dear unto myself, so that I might finish my course with joy, and the ministry, which I have received of the Lord Jesus, to testify the gospel of the grace of God" (Acts 20:24). When the winds blow, we should say, "None of these things move me."
Don't Loose Your Joy
"The joy of the Lord is your strength" (Nehemiah 8:10). We only loose our joy when we stop trusting in the Lord. And when we loose our joy, we have surrendered our strength and succumb to defeat. Look at James 1:2-3, "Dear Brothers, is your life full of difficulties and temptations? Then be happy (joyful), for when the way is rough, your patience has a chance to grow. So let it grow, and don't try to squirm out of your problems. For when your patience is finally in full bloom, then you will be ready for anything, full and complete" (Living). Our joy is part of our recreated spirit (Galatians 5:22). It is there always, no matter what. We just have to choose to walk in it, above the circumstances.
Look at the following quote, "Afflictions come to the believer not to make him sad, but sober; not to make him sorry, but wiser. Even as the plow enriches the field so that the seed is multiplied a thousand fold, so afflictions should magnify our joy and increase our spiritual harvest." –Howard Beecher
Draw Upon the Strength of Godly Associations
There should be individuals in your life that you know walk with God, that you can trust, who will stand with you. In difficult times, go to God first and appropriate His Word. Then find friends who can agree with you in prayer (Matthew 18:19). True friends are of God's idea. "A friend loveth at all times and a brother is born for adversity" (Proverbs 17:17). The Living Bible says, "A true friend is always loyal, and a brother is born to help in time of need." A godly friend may have insight or revelation from God to aid and assist you. The last thing you want to do in a storm is rely upon those who have no experience successfully walking through one.
In I Corinthians 16:17-18 the Apostle Paul lists people who brought him godly and refreshing encouragement ,"I am glad of the coming of Stephanas and Fortunatus and Achicus: for that which was lacking on your part they supplied. For they have REFRESHED MY SPIRIT AND YOURS: therefore acknowledge ye them as such." Goodspeed Translation states, "They have cheered my spirit and yours, too." Conybeare Translation says, "for they have lightened my spirit and yours."
Learn the Language of Faith
Until you learn to master your lips, you will tumble every time in the face of adversity. Jesus' own disciples had to learn this very point. When they were caught in the midst of a storm, they panicked – even though Jesus was right there with them. "And, behold, there arose a great tempest in the sea, insomuch that the ship was covered with the waves: but He (Jesus) was asleep. And His disciples came to Him, and awoke Him, saying Lord, save us: We perish. And He saith unto them, 'Why are ye fearful, O ye of little faith?' Then he arose, and rebuked the winds and the sea; and there was a great calm" (Matthew 8:24-26).
Little faith will talk the problems, complain and yield the tongue to defeat. We need to trust Jesus is bigger than the problems, take our authority in His Name, and rebuke the circumstances that are in opposition to His Word! Take Jesus' example and speak to the storm, "Be still". Proverbs 18:21 declares, "Death and life are in the power of the tongue: and they that love it shall eat the fruit thereof."
Never Give Up
Why does the devil bring storms? He does it to get us to give up in our faith, to exhaust us in our believing. But be encouraged, for the Lord promises, "And let us not be weary in well-doing: for in due season we shall reap, if we faint not" (Galatians 6:9). George Washington once said, "Perseverance is one's duty." Martin Luther King Jr. once said, " The ultimate measure of a man is not found when a man stands in comfort or convenience, but where he stands in challenge and controversy."
You would never face storms if you were no threat to the kingdom of darkness. And the fact that you are struggling against it means you have not been mastered by it! Never give up, but persevere and overcome. II Corinthians 2:14 reminds us, "Now thanks be unto God, which always causeth us to triumph in Christ." We must never give up no matter how difficult the situation may seem. God will not only stand with us, but also cause our stand of faith to turn the tables on adversity so that we will come out on the winning end! You and I are never defeated unless we give up. So face your adversity in the courage and strength of God, trusting Him to see you through. Nahum 1:7, states, "The Lord is good, a stronghold in the day of trouble; and he knoweth them that trust in Him."