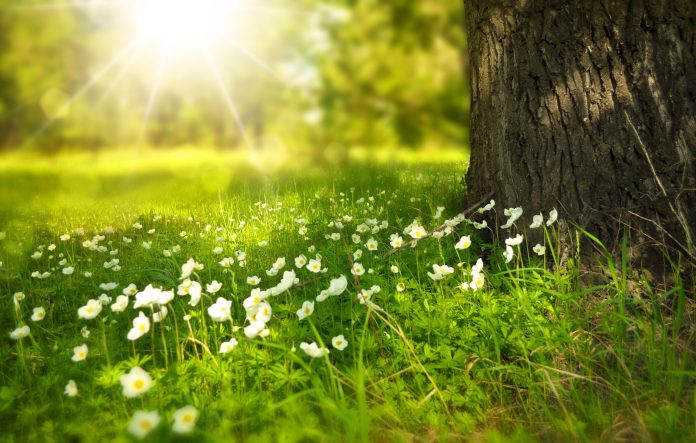 The best response to the glorious gift of grace is a thankful heart that delights in doing My will. It is vital to proclaim the gospel not only to yourself but to the world. … Seek to share this good news—
both near (to family, friends, coworkers) and far (to the nations).
All peoples need to know the truth about Me.
Jesus Always, July 16
From the beginning, God has always wanted to have a relationship with His children. Even after Adam and Eve sinned against God and hid from Him, He continued to have a relationship with them. And, in fact, one of the ways God strengthens our relationship with Him is when He reveals His presence to us.
But in my religious upbringing, I learned to see God the way Adam and Eve did as they hid—I learned to think He would be a vengeful God. So I kept God at a distance; I too hid from Him because of my guilt and shame. And I tried so hard to be good so that I'd be worthy of Him. I read my Bible, and when I wasn't exhausted from all the works I was doing to please Him, I went to church. I prayed words I thought God would hear, but they felt fake. Eventually, I began to resent these practices and just stopped going to church and praying for a while.
Although the Lord desired to have a relationship with me, I didn't know what a relationship with God was supposed to look like because I never had a father-daughter relationship with my own father, or anyone else—at least not a healthy one. But just like God in the garden, He pursued a relationship with me. And as I worked through my physical, mental, and spiritual health, He revealed His loving presence through the people He brought into my life
***
He is present in my learning
A few years ago, I was studying social work at Phoenix College when a guest speaker talked to us about domestic violence. After class, I asked the speaker why she became a social worker, and she said her dad was abusive.
As I began to replay our conversation, I realized I was torn. I wanted desperately to help others, but I still struggled with chronic anxiety and depression due to my own childhood abuse. I didn't want to continue living in a victim state of mind, so I reached out to God and I prayed, "How can I help others if I can't help myself?"
Not long after that prayer, I was listening to Focus on the Family when an author named Leslie Vernick talked about her childhood abuse. It didn't take me long to realize that listening to this interview was an answer to my prayer. At the end of the show, the host listed a phone number that listeners could call if they wanted to speak to a counselor. I dialed the number, and I was directed to my counselor, Kim Sutton. She was the perfect fit for me, and I'm convinced God revealed Himself to me through meeting Kim. And after counseling, I'm thrilled to say that I have a new perspective of who God is, and my relationships are healthier. Even my physical health has been improving because I have learned how to manage my stress.
He is present in my friends and family
God revealed Himself to me again through a friend who gave me
Jesus Calling—which I read during a critical moment in my life and prevented me from harming myself. Jesus spoke to my heart that day when I saw the words, "I am not punishing you." I knew He was there in the room with me, and He was not condemning me, nor was He condemning me for any other sin.
But my real aha moment was on a hiking trip with my daughter, her husband, and my grandchildren. My daughter was fearful of taking me on the hike because of my health, but I reassured her that I would do my best, and if it was too much, I would stop to rest as they continued to the top of the hill.
He is present in nature
The mountain we climbed is called Spook Mountain. I could not help but chuckle at the name because fear kept me paralyzed for many years; it was as though I was finally facing those fears, and I was determined to reach the top. Sure enough, they pressed ahead of me as I climbed at a slower pace.
Finally, when I did make it to the top, I sat and thought about how much I have grown in the knowledge of God since the day I almost took my own life. The false things I believed about myself and about God kept me imprisoned in my own mind, and He freed me through the people He sent into my life. I don't have to live with anxiety and depression any longer. I still have roads to travel on this journey of healing, but I am more confident I can tackle the road ahead because I know Jesus is walking with me.