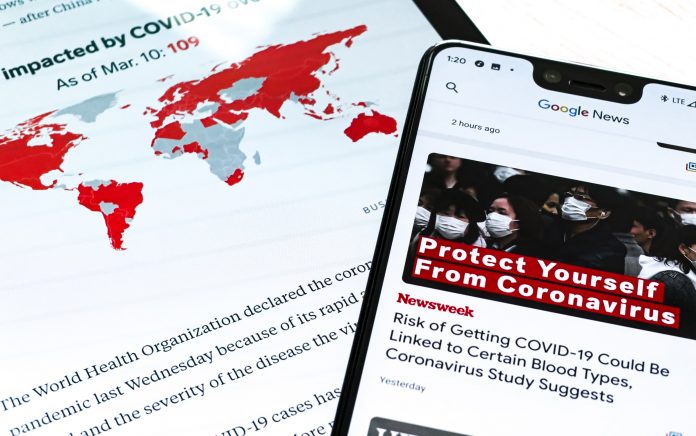 https://podcasts.apple.com/us/podcast/cnlp-332-bobby-herrera-on-crisis-leadership-what-to/id912753163?i=1000470848231
Bobby Herrera is the CEO of Populus Group, a company that supplies staff to numerous Fortune 100 companies.
He talks about how struggle can be a gift, what he learned in the Army on crisis leadership, what to cut and what to keep when leading through the COVID-19 crisis, and how to get your team thinking ahead to when things rest and the world moves into a new normal.
Welcome to Episode 332 of the podcast. Listen and access the show notes below or search for the Carey Nieuwhof Leadership Podcast on Apple Podcasts or wherever you get your podcasts and listen for free.
Plus, in this episode's What I'm Thinking About segment, Carey gives his latest thoughts on the COVID-19 crisis and how to respond as leaders.
EPISODE LINKS
Pro Media Fire
The world is in the midst of a global panic and the church has an opportunity to reach out with hope and love digitally.I am happy to share that from now to Easter, the Pro Media Fire team has come together to help churches spread peace and hope in these uncertain times. Every day, the Pro Media Fire team will provide FREE social media graphics, videos, and strategies to reach people during this season.With a social feed of bad news, they will help your church share Great News. Imagine the impact of thousands of churches around the globe sharing Great News from now to Easter that comes through Christ.Receive free resources and strategies by going to
GreatNews.world
ICM
We've got a crisis going on in our own lives and in our own culture, but it also happens elsewhere in the world, where even response to a global pandemic, access to healthcare is not nearly as real as it is for most of us. So during the moments of crisis here, we have the benefits of leadership and ministry resources. We can jump on the internet. We have resources that others don't have. So imagine navigating this in India or Lebanon or South Sudan. Not only would you not have access to the resources in your language, you might not even have a bible that you could use regularly.
We've partnered with a ministry called International Cooperating Ministries. They're a leader in global church development at work, and while we have crises of our own, since 1986, they have been equipping and helping indigenous church leaders around the world. They're in 100 different countries. They are EFCA accredited, have four stars on Charity Navigator, and for $35 a month, you can equip pastors in a developing nation to respond to crisis and minister effectively. Sometimes one of the best things you can do as a leader is say, "You know what? I'm going to help someone else."To help, check them out at
ICM.org/Carey
CONVERSATION LINKS
Text CRISIS to 33777 to get access to Carey's How to Lead Through Crisis online course
The Four Obsessions of an Extraordinary Executive: A Leadership Fable by Patrick Lencioni
Silos, Politics, and Turf Wars by Patrick Lencioni
The Gift of Struggle by Bobby Herrera
Manage the VUCA by Bobby Herrera
3 INSIGHTS FROM BOBBY
1. Learn how to manage VUCA
It's hard to know what to do in uncharted waters like we are in now. Bobby looked back at his military training and led his team to respond to the VUCA they were facing. VUCA stands for volatility, uncertainty, complexity, and ambiguity. In this time of crisis, there is a ton of VUCA no matter where you are leading.
So, how are they responding? Bobby has trained his team to ask these 3 questions:
What's the purpose?
What's the plan?
What's the process?
When there is a lot of VUCA, you have to overcommunicate the answers to these questions.
2. The best leaders are highly demanding and highly involved in your life
When you look at the mentors that had the deepest impact in people's lives, the best mentors were almost always highly demanding and highly involved in someone's life. They had high expectations of what their mentee would accomplish and were involved enough in their personal life to help them accomplish those goals.
You set this as your company culture by modeling this first as the leader. Bobby has learned the habit of asking his team how they are doing at the start of a meeting, waiting a while, and asking, "Ok, but how are you really doing?" This gets the real answer from his team, and allows him to learn about what they're facing.
3. Act like every employee is critical
When asked if there are any early trends coming out of this crisis, Bobby is seeing a few changes that he hopes will become the new normal. He is seeing a spike of compassion and humanity from some of the other senior executives of major companies around the world.
Previously, employers had a tendency to view full-time employees as more valuable than part-time or contract employees. In this crisis, employers are beginning to see ALL employees as living human beings that are under their care. This is so good for business, and will make a significant difference after the crisis is over.
QUOTES FROM EPISODE 332
There's never been a greater need for compassion in leadership. @BobbyHerreraPGCLICK TO TWEET
You can't motivate your way out of a crisis like this, you have to lead your way out of it. @cnieuwhofCLICK TO TWEET
The more demanding and the more involved you are as a leader, the more you're going to build a high trust culture. @BobbyHerreraPGCLICK TO TWEET
We all struggle. Every struggle teaches us something. That's the gift, and leadership is sharing those gifts with others. @BobbyHerreraPGCLICK TO TWEET
I believe struggle is the purest form of progress that any one of us will ever have. @BobbyHerreraPGCLICK TO TWEET
One of the most important parts of leadership is seeing and encouraging potential. @BobbyHerreraPGCLICK TO TWEET
The leadership chain is not the IQ chain. @BobbyHerreraPGCLICK TO TWEET
Right now, we're all being called to, in our own way, be as generous as we absolutely can. @BobbyHerreraPGCLICK TO TWEET
Our responsibility from a leadership perspective is to help our teams think really well. @BobbyHerreraPGCLICK TO TWEET
Looking for a key quote? More of a reader?
Read or download a free PDF transcript of this episode here.
Select episodes of this podcast are now on YouTube. Our new YouTube Channel gives you a chance to watch some episodes, not just listen. We'll add select episodes to YouTube as time goes on.
HOW TO LEAD THROUGH CRISIS: A NEW FREE COURSE
The world is experiencing a series of unprecedented challenges, and you're leading in the midst of it all.
I've got a brand new online, on-demand course, called How to Lead Through Crisis, that can help you lead your team, your church and yourself through the massive disruption.
The course is the gift from me and my team to you and leaders everywhere. In light of everything that's going on, we decided to make it available 100% free.
Inside How to Lead Through Crisis, you'll learn how to:
Cultivate a non-anxious presence that inspires confidence and trust.
Care for yourself so the crisis doesn't break you.
Master the art of fast-paced, clear decision making.
Gather and interpret the most reliable data that will advance your mission
Advance digitally to scale past physical barriers and grow your outreach.
Lead your team and congregation remotely
While no one has all the answers in a crisis this big, in the course, I share the mindsets, habits, tools and strategies that I believe will help you lead through crisis to get you and the people you lead to a new (and better) future.
You can enroll and get instant access for you and your team here.
SUBSCRIBED YET?
Subscribe for free and never miss out on wisdom from world-class leaders like Brian Houston, Andy Stanley, Craig Groeschel, Nancy Duarte, Henry Cloud, Patrick Lencioni, Francis Chan, Ann Voskamp, Erwin McManus and many others.
Subscribe using your favorite podcast app via
SPREAD THE WORD. LEAVE A RATING AND REVIEW
Hopefully, this episode has helped you lead like never before. That's my goal. If you appreciated it, could you share the love?
The best way to do that is to rate the podcast on Apple Podcasts and leave us a brief review! You can do the same on Stitcher and on TuneIn as well.
Your ratings and reviews help us place the podcast in front of new leaders and listeners. Your feedback also lets me know how I can better serve you.
Thank you for being so awesome.
NEXT EPISODE: KEN COSTA
Ken Costa—a London-based, internationally renowned banker, author and speaker—talks about leading in the midst of the chaos the Coronavirus pandemic has done to the global financial system, what that means for the average leader, how to make decisions in the face of uncertainty, how to approach wealthy donors in bad economic times, and as past chair of Alpha International, discusses what he thinks is ahead for the church.
Subscribe for free now so you won't miss Episode 333.