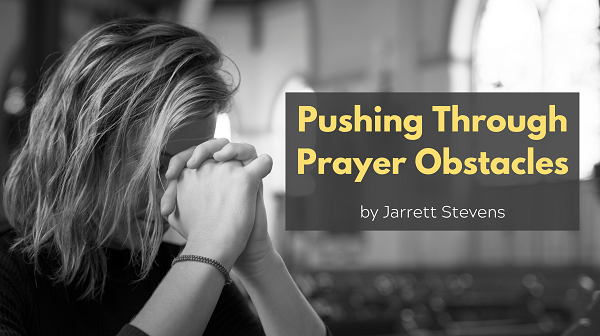 When you bring Me prayer requests,
lay out your concerns before Me.
Speak to Me candidly; pour out your heart.
Then thank Me for the answers that
I have set into motion long before you can discern results.
Jesus Calling, January 11
I sat staring at my computer screen, trying to write a sermon for Sunday, and a full hour passed before I realized I had nothing to offer.
The church my wife and I started from scratch was 4 years old and growing like crazy. I, however, was not. I was spiritually exhausted, defeated, and depleted. My only connection to God was tethered to the content I was struggling to create for others. Something had to change. I needed another way to connect with God and refuel my spiritual life. I needed prayer.
Finding it hard to pray
But the truth is at some point in our lives, each one of us will find it hard to pray.
In one way or another, or in one season or another, everyone has found prayer to be frustrating, confusing, foreign, or stale. Our life with God is rarely all green lights and open doors, so it should be no surprise when we hit obstacles to prayer. This is to be expected. And in fact, it's part of the journey! Obstacles are God's loving way to break us out of our ruts, take us past simple formulas and catchy acronyms, and invite us into deeper, more meaningful and transformational places with Him. In other words, obstacles are actually opportunities!
If you want to connect to God but are having a hard time doing it through prayer, I've found a few things that have helped me along the way:
When You Feel Underequipped
Whether you're new to prayer or coming back after an extended hiatus, you may feel overwhelmed and underequipped. But rather than feeling shame or embarrassment, what if you took the posture of a learner?
At one point, just about everything you know how to do was new to you. You had to learn how to walk and talk and read and write and kiss (albeit awkwardly) and drive and send emails. My hunch is that you never shamed yourself for not knowing how to do those things, so why would you do that with prayer?
Just start where you are. Talk to God like you talk to a friend. Free yourself from the expectation of doing it "right." There is no "right" way to pray, and the only "wrong" way to pray is to not pray at all.
When You Don't Hear Anything
Maybe you've been praying and you're just not hearing anything from God. You're talking but you're not sure He's listening.
You are not alone. God seems to be incredibly comfortable with silence. St. John of the Cross knew what he was talking about when he said that, "Silence is God's first language." While the silence of God can feel deafening and defeating, it's important to remember that silence is not the same as absence. Just because you don't hear God doesn't mean that He's not here.
So instead of fighting the silence of God, I suggest you befriend it. For me, this means incorporating silence into my life with God. For 5–10 minutes at a time, I just sit with God. No Bible, no journal, no music. I practice the ancient invitation of Psalm 46:10: "Be still and know that I am God." I join God in the silence and I'm reminded He is there, He is good, and He is still in control.
When You're Grieving
Maybe you're walking through a season of grief and loss. Someone is no longer with you. You've lost a job. A relationship has come to an end. We all suffer losses, and I have found these losses have the power to either blow up our faith or grow up our faith.
One of the most important things I have learned through the curriculum of grief is to lean into and borrow the faith of others. To let others pray with me and for me. To be held up and held together by the beautiful and broken body of Christ.
When I hit that wall several years ago, I knew that something needed to change. I knew prayer was essential and central to my relationship with God. And I knew there had to be more. So rather than throwing in the towel, I raised a flag. I invited others in. I opened up myself to greater simplicity and creativity in my connection with God.
An Invitation
I had to uncomplicate prayer to help me get unstuck and pray. And what I found on the other side was a God who is far greater, far closer, far more mysterious, and far more interested in me than I could have ever imagined. I found my obstacle to connecting with God was just another invitation. And I pray you find the same as well.
Come to Me. Come to Me. Come to Me.
This is My continual invitation to you, proclaimed in holy whispers.
When your heart and mind are quiet,
you can hear Me inviting you to draw near.
Jesus Calling, August 11