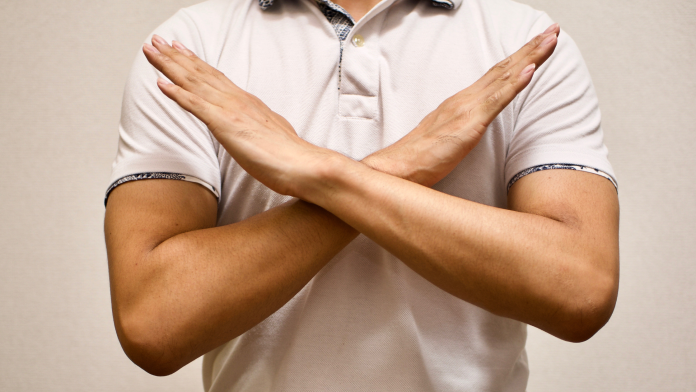 "They said to Him, 'Lord! Everyone is looking for you.' He said to them, 'Let us go into the next towns, that I may preach there also, because for this purpose I have come forth'" (Mark 1:35-38).
Turning down a lousy request is no problem.
–"Hey Joe! Wanna go bungee jumping?" Ha. Not in this lifetime.
–"Hey preacher! How about a night of bar-hopping on Bourbon Street!" You talking to me, Leroy?
–"Pastor, would you write a book on the superiority of your theological system over all others?" Uh, no. But have a nice day.
Saying 'no' to something you hate to do, do not want to do, cannot do, and would not be caught dead doing–piece of cake.
No one has to counsel you on how to do that.
It's all those other requests that you find difficult to turn down.
"Would you judge our city's beauty contest?" Okay, no one has actually asked me to do that, but I live in hope. A preacher, if asked to do this, which I find inconceivable, should turn it down for a hundred rather obvious reasons.
Anyway, back to the subject with more plausible invitations…
"Would you head up our community fund-raising drive?" It's a huge job, but man, what a compliment they have paid you, asking you of all people, to spearhead this project. You will be working with the town's leading citizens. Do this well, and your name will be known by everyone. However, this would take time away from your family and your church.
"Would you travel overseas to our country and address our pastors at the opening of our new seminary?" As a preacher of the Gospel, you long to make a difference for Christ's sake and to sow seeds far and wide as the Lord enables you. This could give you a whole new perspective on the work of the Kingdom. And that would bless your church. And yet, the timing of the event is difficult. Your wife's surgery or your son's graduation or the church's groundbreaking is scheduled at the same time.
"Hello, Pastor Bob. I'm the pastor of Bigtown's Mega Community Church. You might have heard of me, read my books, or seen me on FoxNews. The reason I called is that I read your article on leadership and am so impressed. Our church is having its annual leadership emphasis on the 25th of next month, and the Lord impressed me to see if you would be our guest speaker. We'll fly you here and give you a sizeable honorarium." Ahhh. Finally, your talents are being appreciated. What a thrill to meet that distinguished pastor and address that huge congregation. But, on the other hand, your schedule is full, and you have promised your wife you will take no other engagements for the rest of the year.
Saying 'no,' even when you really want to do this, is going to require everything in you. Saying 'no' may be the finest gift you could ever give your wife and family and your church. Saying 'no' when your ego and ambition and "sense of self" are all clamoring to seize this invitation is going to say worlds about your self-discipline and focus.
Here are four thoughts on the subject…
1) The time to work this out is now, when no one is inviting you to anything more than pray at the grand opening of the IGA supermarket down the street.
Leaving this decision to the moment it actually occurs–when the phone brings the invitation of a lifetime and you get all swimmy-headed and sweaty-palmed–will doom you to failure.
So, give it thought now. Have a discussion about this with your wife. (Consider letting her read this article, and then the two of you go for coffee and donuts and talk about it.)
2) Now, the easiest way to turn down that attractive invitation is: Open your mouth and utter the words: "Thank you. But I'll need to say no."
If you must, add a little sweetener to the rejection: "You're so kind to invite me. But my schedule just won't allow it. I sincerely thank you, though."
Even if your heart is not in it, and this is the invitation you have always dreamed of, but you know accepting it would endanger your marriage and undermine your pastoral leadership, just open your mouth and utter those magic words. "Thank you. But I won't be able to do that."
"Just say it" was the counsel given me once when we were trying to raise funds for a Salvation Army ministry center. And yes, I had been asked to chair the drive. (Everyone else in town had turned them down. True story.) That day, we were approaching one of my members who owned the television station and the newspaper and no telling what else. Our financial consultant had decided we should ask him for a pledge of $100,000. Then he and the others in our group said I should be the one to make the request. As we got out of the car and headed toward his office, I said, "How do you ask someone for a hundred thousand dollars?"
The consultant said, "You open your mouth and say the words. Even if your knees are buckling and the sweat is popping out and you wish you were anywhere else in the world, just speak the words." I did it. (I wish I could tell you we got the big bucks. But I have long since forgotten.)
3) However. What if you are not able to say those words, "Thank you, but I won't be able to do this"? The words just will not come. What then?
I have one huge suggestion, one that has saved my neck more than once.
Ask if you can pray about it and get back to them.
"Mr. Bigshot, thank you. I am really honored by your invitation. Would you give me a little time to talk to the Lord about this. I promise to call you back this afternoon."
If necessary, you can juice that up just a little. "I would have to juggle some things on my calendar, and I might have other conflicts with that date. So, I need a little time to study this and pray about it." Oh, and "I need to discuss it with my wife." That's a huge point.
All he can say to that is, "Yes." If he says 'no,' that he needs an answer this minute, something is fishy and you will have little trouble turning it down. (The invitation to preach for a conference in the London area set my heart to racing. I love England. Then, I noticed the dates were only six weeks away. And the pastor needed a response 'now.' Knowing nothing more than that, I thanked him and turned it down. That was very easy.)
By buying a little time, you will be able to look at the invitation and your calendar more dispassionately. By praying about the matter, you will be honoring the Lord whose will should be paramount in this and everything else we do.
4) If you have trouble getting an answer to your prayer, I have two suggestions.
–a) If the problem is a prior commitment you have made to your spouse, you don't need to pray about it. You either need to "man up" and keep your promise, or call her and discuss it. She might like to make that overseas trip with you. Or, you can piggyback a side trip to a resort for a few days of R & R with your beloved.
When a denominational leader in Michigan invited me to do their Christmas pastors banquet and preach in a couple of churches for the weekend, I called home to see what Margaret thought. We decided to combine this with a trip to Nashville for her family reunion, then drive leisurely northward, stopping whenever we wished and make a fun trip of it. She enjoyed the event as much as I did.
–b) If the problem is that you don't seem able to hear from the Lord on this matter, try this.
Envision yourself accepting the invitation and pray along that line for, say, five minutes. "Yes, Lord, I'm going to call Mr. Big back and tell him I'll come. And I'll travel to that city, Lord, and here's what I will do…."
At the end of five minutes, switch to plan B. "No, Lord, I'm going to turn him down. I'll call him back and tell him I feel I should say 'no,' that the Lord wants me to stay home and pastor my church. And I'll tell my wife, Lord…" Do this for five minutes.
At the end of your prayer time, one of those should seem right to you and the other completely forced. There is your answer.
In time you will get the hang of saying 'no' to wonderful opportunities which would lure you away from your true calling: to please the Lord in all things.
At the age of 83–Lordy, how did that happen so quickly?–I find it easier and easier to turn down invitations that would require a lot of travel. Just the other day, I had to say 'no' to leading a weekend prayer conference, something I would dearly have loved. But as I prayed, the Lord called to my mind a retired preacher friend who lives much closer to that distant church and who would do them an outstanding job. It was most definitely the right thing to do.
Saying no. Try it sometime.
"My food is to do the will of Him who sent me, and to finish His work" (John 4:34). That's our only agenda, too.