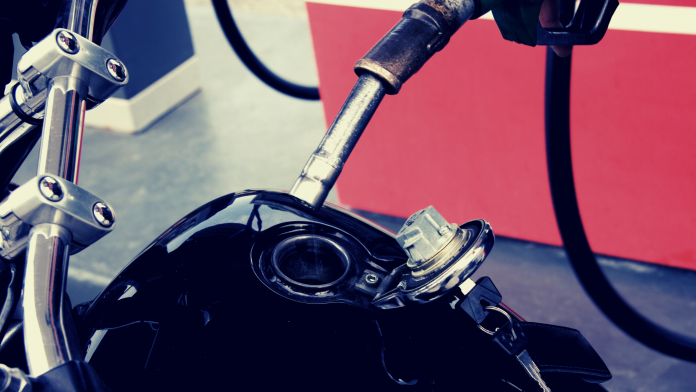 Written by: Bill Riedel 
Bill Riedel is the founding and lead pastor of Redemption Hill Church in Washington, D.C. He was formally trained at Trinity International University (BA) and Trinity Evangelical Divinity School (MDiv) and has served in ministry since 1998. He serves in Acts 29 as the D.C. area director and on the Acts 29 North Atlantic leadership team, as well as the board of the EFCA. You can follow him on Twitter.
This following content was originally published on Acts 29's website, linked here: https://www.acts29.com/church-planter-are-you-running-on-fumes/
---
My motorcycle doesn't have a gas gauge like most others. I have to watch the mileage and estimate how far I can typically go on a tank before stopping to refuel. If I push it too close to the limit, the bike will start to sputter as it runs out of gas. Fortunately, a small switch underneath the tank can switch to a half-gallon reserve tank. Switching over makes it possible to get safely off the road to refuel.
Too many pastors and church leaders are running on fumes. The tank was drained long ago, and the reserve is running out fast. And yet, as life seems to reopen, and the summer and new ministry year loom in the months ahead, most of us have a good desire to hit the gas, to the glory of God.
So how can we make sure there's fuel in the tank?
Stop to Refuel
People in helping professions are notoriously bad at taking care of themselves as they care for others. This is often true in the church. On a large scale, that could mean that you need a sabbatical or more extended break. But it won't help to live life in an ongoing pattern of running yourself into the ground to collapse into long breaks.
It's worth the time to think strategically about what fuels you and helps re-creation in your body, mind, and soul. A regular rhythm of daily and weekly practices will be the best bet to make it for the long run.
Acknowledge Change
The past two years have changed us. All of us. No person, neighborhood, workplace, or church is the same. It's hard not to carry expectations that life will "return to normal" at some point, but those expectations will crush us if we fixate on them. You're different, so am I, and so are our churches. It's worth the time to think strategically about what fuels you and helps re-creation in your body, mind, and soul.CLICK TO TWEET
Leading through a global pandemic, fiery political division, tensions in the powder keg of racial injustice, and the weight of sorrow, depression, and discontent of the people in our churches is heavier than anyone was designed to bear. To make it more complicated, a restless discontent has taken hold. As life begins to open up more fully again and we head from winter, through spring, with summer on the horizon, there seems to be a near-universal expectation that everything will snap back to normal.
Whether good or bad, change is disconcerting. So, call it out and make it clear. As we face change head-on, we have the opportunity to help people make sense of their hearts and experiences.
Re-Focus on Jesus
When discontent creeps in, our eyes naturally turn away from Jesus. Like Peter watching the waves, we start to see only the dangers and threats and risk being overwhelmed by them. That fear and anxiety quickly translate into frustration toward those around us. We wonder if others are pulling their weight and if we're alone in our experience. The weight of our unmet expectations can quickly turn toxic.
Our primary responsibility is to point people to Jesus. Whatever other tasks, ministries, events, meetings, or anything else we do, we need to make sure our eyes are firmly fixed on Jesus, and we're calling the church to keep our focus on our Savior. Whatever else may happen in global conflict, pandemics, politics, our churches, or our own hearts, we must return again and again to see the beauty and majesty of Jesus more fully and more clearly. The promise that Jesus will return and make all things new gives us the confidence to rest, knowing God's work is not contingent on us.CLICK TO TWEET
Beholding Jesus frees us to meet people in the valleys they walk through, no matter how dark and bleak. With our eyes fixed on him, we'll gain his view on his people. The expectations we hold for church leaders and members will be reshaped. We'll see that we're all frightened and helpless sheep yearning to hear the voice of the Good Shepherd.
However dark it gets, we can keep looking ahead. The promise that Jesus will return and make all things new gives us the confidence to rest, knowing God's work is not contingent on us. Life will bring us more than we can bear, but our good Father loves us and gives us all we need (Ps. 127:2).
Whether this month, during the summer, or just taking the afternoon off today, get some rest. If you've been running on reserves for a long time and you're starting to sputter, stop while you can still safely pull off the road to get refueled.
A lot has changed over the past few years, and the more clearly we can name and acknowledge that reality, the quicker we can heal from it all. Above all, keep your eyes fixed on Jesus. What every one of us—and every one of our churches—needs most is the continual reminder to re-focus on him.