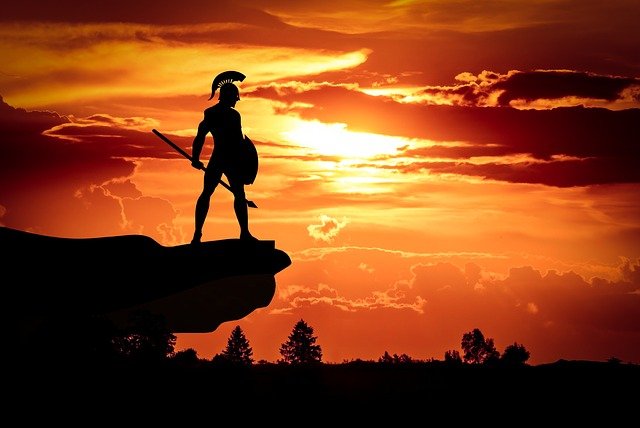 LET'S FACE IT:  "YOU'VE GOT TO BE STRONG RIGHT NOW."
YOU SAY, "I DON'T FEEL STRONG."
The Bible gives the secret:  "Be strong IN THE LORD and in the power of HIS MIGHT." (Eph. 6: 10)
When you put your car in "Drive," it makes no difference if you weigh 50 pounds or 350 pounds.  The power is in the engine, and it is going to take off! You only need the strength to turn the key, not to move the car.  The engine does that.
God never expects us to simply "have strength."  Your strength is in the power of Christ who lives inside of you!
Change Your Thinking By Speaking These 5 Phrases
"God is on my side"
You are strong because God is "on your side." Whatever team God is with, wins!
We are on a "team of champions."  Christ has defeated our foes.  He DID not lose, He CANNOT lose.
"Christ is living inside of me"
The same Holy Spirit who raised Christ from the dead is living in you. This Sunday is Easter, and we can read about the empty grave clothes and the empty tomb.
That mighty, powerful Jesus who defeated death and rose in triumph lives forever is inside of you!
"I have the name of Jesus"
Jesus gave us the "power of attorney," the power to use His name freely. Demons tremble at the mention of His Name.
Your strength is not how LOUDLY you speak the Name of Jesus.  You can whisper that name and it carries all of the authority of the universe behind it.
"The joy of the Lord is my strength"
Nehemiah made that statement to the fearful multitude in Jerusalem whose enemies surrounded them (Nehemiah 8: 10).
Never lose your joy! It is like "Samson's hair." If the enemy can cut off your joy he can cut off your strength.
Laugh at him.  Sing psalms to the Lord when you are tempted to be weak.
"When I am weak, I am strong"
Paul said these words when he was going through "weaknessess, insults, hardships, persecutions, and calamities" (2 Corinthians 12: 10)
If you feel weak right now, say it out loud, "I AM STRONG."  The prophet Joel commanded it:  "Let the weakling say, I AM STRONG" (Joel 3: 10, NIV)
How Do You Stay Strong?
Do These 3 Things:
Pray in the Holy Spirit
"But you, beloved, BUILDING YOURSELVES UP in your most holy faith and praying in the Holy Spirit…" (Jude 20).
Read your Bible daily
"I commend you to God and to the Word of His grace, which is able to BUILD YOU UP…" (Acts 20: 32)
Control your mouth
"Let no corrupting talk come out of your mouths, but only such as is good for BUILDING UP…" (Eph. 4:29)
IF YOU STAY "SPIRITUALLY STRONG" IT WILL BUILD UP YOUR "PHYSICAL IMMUNITY!"
REMEMBER:  "IT IS HIS STRENGTH, NOT YOURS."