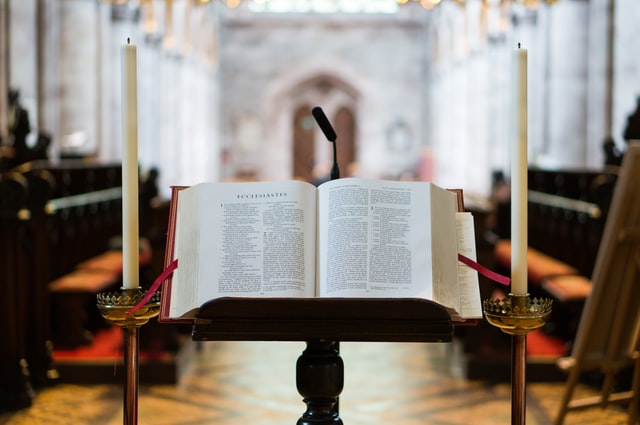 As you know by now, re-opening your church building is a far more complex task than closing your building ever was.
The question is, how do you do it well?
When emotions, adrenaline and fatigue run high (and they're all running high right now), it's a perfect set up for decisions you may one day regret.
So, loosely inspired by The ScrewTape Letters (with deep apologies to C.S. Lewis) and by Dwight Shrute's profound leadership insight from The Office tv show:
Whenever I'm about to do something, I think to myself, "Would an idiot do that?" and if they would, I do not do that thing.
…here's my (tongue-in-cheek) attempt at an idiot's guide to reopening your church.
This post pokes a bit of fun, but please hear my heart, I really want you to open well and see your church grow. You are working hard and your community needs you.
I hope this provides some clarity and a smile (we all need a bit of fun right now). So please be kind in the comments and offer some examples of other things you really don't want to do when reopening your facility.
Also, please know I've made my share of idiot moves in leadership (like, perhaps, writing a post called The Idiot's Guide to…). There are clearly some moments I wish I could get back.
With all that said, if you were aiming to be an idiot when reopening your church, here's exactly how to do it.
1. VIOLATE AS MANY SOCIAL DISTANCING GUIDELINES AS YOU THINK YOU CAN GET AWAY WITH
There's what the law says, and what you think you can make the law say.
As a former attorney, I've been trained to spot loopholes, or to play creatively with wording to get it to say what I want it to say.
So, to be an idiot, take the most expansive view you can of any and all guidelines and do the minimum required.
Besides, are the officials really going to check whether people are 6 feet apart or 5 feet apart? At 5 feet apart you can squeeze 100 more people in…and does it really make that much difference?
And sure, families are recommended to sit together, but nobody's going to suggest friends sit apart, right? I mean really…
And wait, if they're wearing face coverings (made by Aunt Buelah), does there really need to be 6 feet between them?
Oh, and don't worry about the kids. Push all the kids into one room. It's impossible to socially distance kids anyway.
2. EXERCISE YOUR CONSTITUTIONAL RIGHTS BUT IGNORE YOUR RESPONSIBILITIES
You have rights the government can't take away, and nobody can make you do anything you don't want to, correct?
So, to be an idiot, exercise your constitutional rights but ignore your responsibilities. Strangely, the US government still educates citizens on their rights and their responsibilities.
In a hyper-individualistic culture, you should count on other people to exercise their responsibilities. You, after all, can just focus your rights.
And when you think about the Christian faith deeply, it has nothing to do with the responsibility to love or care for others. It's all about you.
3. OPEN SO FAST YOU HAVE TO CLOSE AGAIN
The best way to have to close your church down after you re-open the doors is to become the source of an area cluster of infections and deaths that trace back to your church.
That will guarantee you lots of press (perhaps national coverage) and impress your unchurched neighbors, who, prior to COVID, were already struggling with you.
Plus, the quick open/close move probably means even more people will trust you next time you open your doors.
4. MAKE IT POLITICAL
We live in an amazing age where everything is both tribal and partisan and therefore deeply inspiring.
Make sure you politicize human disease and suffering.
This is not only guaranteed to confuse and irritate people, it will immediately discredit you with people who vote differently than you do.
One of the best ways to instantly alienate half the people you're trying to reach is to make the Gospel partisan.
5. USE YOUR SOCIAL MEDIA PLATFORM TO VENT
This is a fantastic tactic.
Since social media gives everyone a platform, make sure you share your every emotion (especially anger, irritation, frustration, and impatience) on social media.
The best way to do this is to post something in the heat of the moment. Don't pray about it, share it with a few trusted friends first, or sleep on it for a night or two. Definitely do not ask your spouse if you should post it.
Not only will this improve your credibility, but your impulsiveness will also deepen people's trust and respect for you.
6. ABANDON YOUR ONLINE ADVANCES AND MAKE IT 100% ABOUT THE BUILDING
Once you're back in your building, even though your attendance will probably be much lower than you'd hoped, abandon any progress you've made with online church in the last few months.
Online ministry isn't real ministry, and the people you've reached online don't need the same level of care and attention as people you can see face to face.
For bonus points, pivot all of your staff-dollars back into in-person ministry.
The internet is a bit of a fad anyway.
7. TREAT ONLINE ATTENDEES LIKE SECOND-CLASS CITIZENS
Because in-person attendance at a physical location is is the only way authentic Christians express their faith, make everyone engaging and participating online feel like they're second-rate.
The fact that they might be older and at higher risk, struggle with some co-morbidity risks (like obesity or diabetes), might not have access to health care, are worried about their children or aging parents they're caring for, or are even away for the weekend and wanting to connect shouldn't deter you.
The people who aren't in the room don't really count.
8. TELL PEOPLE YOUR FAITH BUYS YOU IMMUNITY FROM DISEASE
For bonus points, make in-person attendance theological.
Even a cursory reading of scripture shows that God never lets his people suffer. The Bible has no calamity, disease, poverty or suffering in it, and when it does, God's people never have to go through it.
So let people know that when they show up, they have immunity because they're far more faithful than those who aren't in the building.
THE WAY TO A BETTER FUTURE…
Okay that's enough of the idiot's guide.
But thanks for hanging in there.
Although I'm definitely no C.S. Lewis and this is not the ScrewTape Letters, after finishing this post, I feel a little like Lewis did when he finished The ScrewTape Letters and remarked:
Though I had never written anything more easily, I never wrote with less enjoyment. … [T]hough it was easy to twist one's mind into the diabolical attitude, it was not fun, or not for long. The strain produced a sort of spiritual cramp. The work into which I had to project myself while I spoke through Screwtape was all dust, grit, thirst, and itch. Every trace of beauty, freshness, and geniality had to be excluded. It almost smothered me before I was done."
I've written a whole body of work on the church in the midst of crisis that's written in a much different voice (just poke around this blog).
The reopening of our church buildings is far more complex than closing them ever was, but to do so with kindness, humility, grace is the challenge before us.
Leaders, let's open our churches well. Thoughtfully, prayerfully, wisely and with consideration and kindness.
Put all of that energy and adrenaline you feel into great decisions, not impulsive ones.
Sometimes knowing the wrong way to do something can point us to the right way to do it. And that's my hope with this piece.
To wrap up where we started, a little more Dwight Shrute wisdom:
"Nostalgia is one of the great human weaknesses, second only to the neck."
Remember, church leaders, as much as we all miss the old normal, the past has a nostalgia that the future never does.
But the future is what we're called to lead people into.