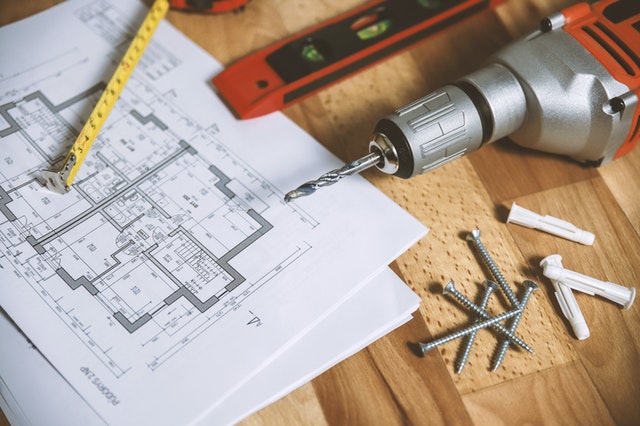 Kristi and I just flipped a house! I know, I know, before the Chip and Joanna Gaines comments begin to flood this post (especially since my wife looks strikingly similar to Joanna) I want to tell you why we did it. It certainly isn't because we were bored or had an abundance of free time on our hands. That's the furthest thing from reality. It isn't because we're looking at house-flipping as a new career path. I'm still pastoring and hopefully always will and she's still in PA school. And no, we didn't flip the house we live in. We flipped a rental property. And we have a strong reason for doing so even amidst the chaos of our lives.
You see our church has a very acute mission in an inner-city neighborhood of Indianapolis called Riverside/MLK. I talk a bit about the partnerships we've developed in that area in this blog post (https://daveyblackburn.com/blog/purpose-in-pain) and I go into the evolution of those partnerships and the vision of it in detail in my book Nothing is Wasted which will be released after Amanda's trials are concluded.
Before Amanda passed away she and I used to train for half-marathons. On long run days we'd often run from our house — the house she was murdered in — to downtown along a route that weaves parallel to the White River. The first time we ran that route we came to a zigzag at 29th Street and Cold Spring Dr. right next to the old Naval Armory that sits on the banks of the White River. As we made the right turn off 29th Street the landscape opened up and we saw in front of us dilapidated recreational fields, boarded up houses, and a beautiful view of the cityscape of Indianapolis in the background. I looked at Amanda while she ran next to me and said, "Babe! This would be an incredible place to build a Dream Center or something where we help people in poverty in our city meet Jesus and climb out of their situation." From that day we began praying that God would allow us to see that dream become a reality.
After Amanda was killed the fire of this vision began to stoke hotter and hotter in my heart. Systemic poverty and generational sin cycles lead to crime — the kind of crime that left me a widower and single dad at 30 years old when three men broke into my home and killed Amanda over a little bit of cash.
A year after Amanda was killed, Kristi started serving with our Adopt-A-Block team in the Riverside area. You can read the full story in this blog post (https://daveyblackburn.com/blog/she-said-yes) but I later found out that Kristi's step dad and mom have lived in the Riverside neighborhood for seventeen years with a missional approach to help revive the people of that neighborhood. The more I interacted with folks in the area I realized that vacant homes exist there because of vacant lives. When you lose hope one of the first things to go is your home. I'm not really sure which comes first. It seems like a "chicken or egg" conversation. Either way hopelessness and homelessness seem to go hand in hand.
In August of 2017, I found myself at a lunch with Ali King, the director of Youth For Christ in Indianapolis, and two developers named Jeff Sparks and Rex Fisher. At the time our church was about 9 months into a partnership with Youth For Christ to develop programs in the Riverside/MLK area to mentor teenagers and prevent them from stepping into a life of drug-related and gang-related activity. Before this meeting Ali and I had chased some trails together and learned that there are five pillars to transforming an urban neighborhood:
Jesus-Centered Church – A bible-believing, Jesus-centered church that can be an anchor for the discipleship of the community
Mentoring – specifically responding to the void of fathers in urban impoverished neighborhoods
Education – providing opportunities for inner-city kids to get a good education that would avail them opportunities to better their financial situation
Career/Entrpreneurial Training – Jobs and Small-Business are the backbone of economic stimulation in neighborhoods
Housing – Affordable housing options for those living in lower-middle class neighborhoods is hard to come by, especially with the rise of gentrification and urban development happening in almost every major metropolitan city in the United States.
Our long-term vision for our inner-city efforts known as #ForIndy would be to respond to the growing needs of each of these pillars in the Riverside/MLK area. Currently we do two things: (1) Adopt-A-Block as a way of building relationships and trust with the community and (2) Mentor teenagers.
Ali King and I are both big dreamers. We live under the delusion that we can do something to reverse the generational curses that plague our inner-city. Ali has bought into this philosophy so much that she sold her house in Zionsville, IN (the epitome of Suburban Indianapolis) and moved to a rough neighborhood on the other side of the River from the Riverside/MLK neighborhood. She believes that if she loves her neighbors like Jesus would she can start a Gospel ripple effect in the community. I happen to believe she's right and Kristi and I have often talked about what it would look like to move our family to the Riverside/MLK neighborhood for the same reason. I have to admit, most of our conversations are through a dear-Lord-please-don't-call-our-family-to-move-there filter. But she and I have said we're completely open to the Lord's leading — whatever that may entail.
Anyways back to this lunch meeting in August of 2017. Ali and I wanted to pick the brains of some developers on housing needs and urban development in Indianapolis, so Ali set up the lunch. I've always been fascinated by Real Estate as an investment medium for passive income. Maybe it began when I read Robert Kiyosaki's Rich Dad, Poor Dad shortly after Amanda and I got married. Or maybe it started when Amanda began working for a realtor while we lived in Greenville, SC in 2009. Either way, since then I quickly found myself eager to learn anything I could on the topic and began daydreaming about one day creating passive income channels through real estate. Of course I've always been such a Dave Ramsey-ite and I've determined I'd never invest in real estate until I had the ability to do it debt free. So when I heard we were meeting with two very successful real estate investors in our city, I was eager to see what could come out of it. In fact, right up to the day we had lunch with Rex and Jeff, I had been considering stepping into the real estate investment scene. I had been asking The Lord if he would provide me a mentor in that space who both knew what they were doing when it comes to "buy, flip, and hold" strategies of real estate and who had a missional mindset for our city. I was determined not to proceed until someone of this caliber came along.
Of course, the purpose for this meeting in August wasn't about investing in real estate, rather it was to learn how we could prevent what seemed like inevitable gentrification that keeps creeping its way into our urban neighborhoods of interest. For many people gentrification sounds like a good thing. Urban neighborhoods become nicer and seemingly safer. More people ride their bikes and walk around their cities. Houses that line the streets downtown look less like slums and more like HGTV homes. It sounds romantic, huh?
You see gentrification occurs when a critical mass of houses in a neighborhood get flipped and sold for much higher rates than the neighborhood previously offered causing property taxes and home values in that neighborhood to escalate. The value of the neighborhood climbs too high for the indigenous poor and they're forced to move out of the neighborhood they once called home. Unfortunately while more privileged (and often white families) get to enjoy the spoils of hipster urban living, gentrification displaces the poverty of the urban core, uprooting the same families we're trying to help and forcing them to find housing elsewhere in the city.
This leads to two things. First of all, the poor have a much more difficult time reversing their situation because they have now been forced out of the only support system they had — family units, public transportation, proximity of job opportunities — thus making it more difficult for them to find and keep jobs, start businesses, and keep a roof over their head. Secondly, industry in the urban core initially begins to thrive but, according to Richard Florida in his recent book The New Urban Crisis, the booming economy is a temporary rouse. After a while a vacuum of working class individuals who can afford to live near their jobs downtown begins to form because housing prices have climbed so high and the once booming urban economy is at a high risk for eventually imploding.
So our question to Rex and Jeff that day became, how do we get ahead of this and stop it from happening because it could have drastic ramifications on the families we're trying to help.
They answered simply, "You can't stop it. If the city wants gentrification to happen, it will happen."
That took the wind out our sails. But just as soon as it had, a new wind blew as Rex looked at me and said, "But you can get ahead of it and work with it." He went on to tell us his story of flipping houses on the East side of Indy in a neighborhood known as Fountain Square. He walked out onto the porch one day several years ago, looked down the way and saw kids playing in the street when they should have been in school. His heart broke and that evening he went back to his golf course community in the suburbs and told his wife that he thought they were supposed to move to Fountain Square to help people there. She began crying, not because she didn't want to, but because she knew God was calling them to. So they did and over the last fifteen years they've been working to provide affordable housing options for families in Fountain Square who have considered that area their home for generations.
"You see," Rex explained to us, "A good, healthy urban neighborhood needs a mixture of ethnicities, socio-economic statuses, demographics, and renters vs. homeowners. We're trying to do we can to keep that mixture prevalent as we come alongside these families, help them get on their feet and make a life for themselves. All the while we get to share the Gospel with them and point them to the only one who truly can heal them from their generational woes."
As Rex was sharing with us his story and his passion I knew God had just provided me a necessary mentor to help me step into this space. So shortly after that lunch meeting, I met Rex at his office and with a notebook opened in front of me and my hand cramping from all the notes I was taking, I asked him question after question about two of my passions — real estate investing and urban ministry — and how those two things could properly merge.
Two months later I closed on a little 2 bedroom 1 bath bungalow in the Riverside/MLK neighborhood. That same week Kristi and I got engaged on a rooftop overlooking our beautiful city. I wouldn't suggest buying a rental property and an engagement ring in the same month. Talk about a drastic shift in your bank account. But as I drove away from the City-County building the day of closing, deed and ring in tote, I knew this was the start of an exciting adventure. I know God has brought the two of us together and woven our hurt-filled stories in order to place us in spaces where hurting people are looking for hope. When I called Kristi to tell her I closed on the property she just cried. "I've spent much of my adult life trying to get out of this neighborhood and now it seems God is calling us to spend our lives entrenched in it." All I could think about as she said this on the other end of the line was Rex's wife and their story of moving to Fountain Square.
I have no idea what God has for us in the future but we're open to His leading. Our goal is to buy several properties in the Riverside/MLK area, flip them, and keep the rental rates affordable for families who are going through the programs we're developing. This is going to be quite an undertaking and God is definitely going to have to come through for us because we're determined to do it debt free. As for now we have one property and gradually we'll keep chipping away at the next one.
Amanda used to restore furniture. She took dumpy old armoires, tables, dressers, and chairs, fixed them up, made them valuable again, and sold these now beautiful shabby chic pieces to people who don't want to spend the outrageous amounts of money it usually requires to own antique furniture. There's no doubt she would have loved fixing up these houses. She believed that nothing was wasted — that anything could be restored and repurposed for good. It was crime and poverty that ransacked my family and my home and took Amanda from us that morning November 10th, 2015. But Kristi and I agree with Amanda. We believe Nothing is Wasted. And we are convinced one of our callings in life now is to step into the pits of crime and poverty and breathe hope into the neighborhood by repurposing boarded up, ransacked homes and making them available for hurting people. As we do we'll be sure to bring you along on the journey.