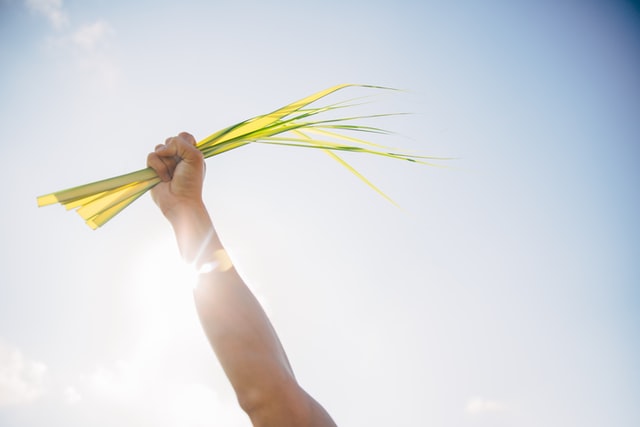 On the Jesus Calling® Podcast, author Dawn Barton shared how she'd lost a child, survived rape, beaten Stage 3 breast cancer but lost her sister to the disease just a few years later, watched her mother suffer through a brain aneurysm, and walked her husband through the depths of alcoholism on the hard journey to sobriety.
Dawn has every excuse in the world not to be joyful. But in this excerpt from her new book Laughing Through the Ugly Cry: And Finding Unstoppable Joy, Dawn shows us why she has made it, as she says, a goal to "scream from the mountaintops why we should be joyful, and why it's a choice."
A DEEP BREATH AND a huge, slow eye roll. That was my immediate reaction. A family member had just said to me, "You get to." This was her attempt at reminding me of the holiest of postures—gratitude—so I'd do something I absolutely did not want to do: clean my child's vomit off my dress and new suede shoes. I can assure you there was no feeling of gratitude in this moment as I stood covered in vomit. "Honey, you get to clean that vomit." You get to.
In all things be grateful
If you're not familiar with this worldview, it's an idea espoused by pretty much every pastor, women's conference speaker, and all-knowing aunt I've ever encountered: to truly enjoy life the way God wants us to, we must be grateful 24-7. We should be grateful for the little things, the big things, the smelly things, the happy and the sad—in all things we should be grateful. The truth is this: that annoying family member was right. And I do believe it now.
Finding joy in the messy, tedious tasks of our everyday lives is darn near impossible sometimes. Driving the kids to school, going to your job, helping with homework, keeping up with sports, meals, and exercise, feeling miserable about what you just ate—every single day, life is hard. I know. The tasks seem never-ending, and it can be so difficult to find joy in the tedium. Until one day, when everything that makes your eyes roll is taken away. Overnight those tasks and routines can become the precious little places where joy is birthed. The struggle quickly becomes the gift.
My youngest daughter, Ellason, was four years old when I was diagnosed with breast cancer, and Makenzie, my oldest, was married and out of the house, tending to her own family about an hour away. My husband, Craig, was in a dusty tent in the Middle East. It was just Ellason and me at home, with a lot of love and support from family and friends.
In the chemo days finding joy and hope
Chemotherapy was a wild beast, and it kicked my butt. And the more rounds of chemo I had, the longer the miserable part of the process would take. But I can't write honestly about my chemo days without adding this: it was in the agony and sickness that I found God on the most beautiful and intimate level. In the depths of my pain, I came to know Him best. I believe it is often at our most helpless, our most vulnerable, that we are most primed to hear and see Him.
While I was undergoing treatment, there was no driving Ella to school, no making her lunches or picking out her clothes. There was no playtime, no homework together, no running and tickling. I wanted to play an active role in my own life, and I couldn't.
As I fought through weeks of chemo, I found moments of joy and laughter with Ella. Not on a playground or in a car drive, but in the sweet, quiet moments lying in my bed with her snuggled next to me, close to my belly and wrapped in my arms. I am not sure if I comforted her more or if she comforted me, but Ellason was my saving grace at the end of each day.
You get to…
After months of treatment, I remember the day I was finally able to pick up Ellason from school. I was elated. Before cancer, I had taken so much of this for granted; I even thought of some of those activities as the burdens. In reality, these mundane activities were the sweet blessings of life. Chemo was teaching me how to fight for moments of joy and hope. I was learning to look for them, and I was realizing all those things I resented were actually things I got to do. In fact, I eventually reached a rather revolutionary level of "you get to" mastery.
I get to clean her vomit off my shoes. Never in a million years would I have dreamed the diagnosis of cancer was a gift. But I can tell you unequivocally it was. A crazy, wild, precious gift. I got to battle cancer. In that battle I learned to love my family more, and I met God on a whole new level.
So whether it's a life-changing battle or one of those mildly irritating or gross parts of life, they don't look so bad when that story in your head changes. When you realize that the gifts you're being given are right there in that unattractive packaging. You get to open them, and you might find out that God designed them just for you—for your good and His glory.
When you respond to trouble with thanksgiving—convinced that I can bring good out of the most difficult situations—I am pleased. This act of faith encourages you and glorifies Me. I rejoice when My struggling children give thanks to me in song!