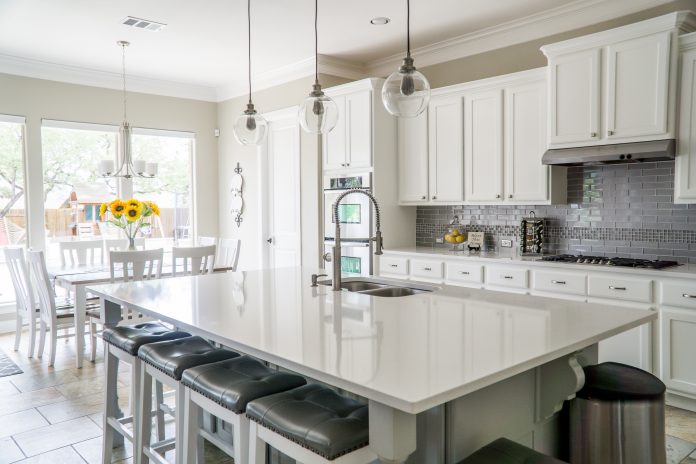 AROUND A KITCHEN ISLAND
I had the privilege last week of sharing a meal with Daniel and Brittney Brooker. If you don't know their story, you need to get to know it. Daniel lost his wife, Lindsey to cancer in August of 2015. Brittany lost her husband, Patrick, to a sudden heart attack in his office at work. (You can read more of their story on Daniel's Blog & Brittany's Blog) The Lord connected Brittany and Daniel through their mutual desire to minister to widows and widowers. They recently married each other combining Brittany's three boys with Daniel's son and daughter. They call themselves the Brooker Bunch and there never was a more beautiful blended family. I originally ran into Daniel and Brittany at a conference we were both speaking at in Atlanta back in July. They snuck into the auditorium with some of the conference hosts. Though we didn't actually meet or interact at that conference, we both knew each other were in attendance and wanted to eventually grab some time together.
A week later Daniel reached out to me to tell me he and Brittany had just gotten married and wanted to know where I was in my grief process. When you lose a spouse,  all of a sudden you're thrust into this exclusive club that no one wants to pay the membership dues for. Now through the power of social media, you can be connected with someone who is walking a very similar journey as you as quickly as a couple of key strokes. I think this is one of the benefits of leveraging social media for the good in your life.
THE ENEMY WOULD LOVE FOR YOU TO BELIEVE YOU'RE ALONE IN YOUR JOURNEY — THAT YOU'RE THE ONLY ONE DEALING WITH THE PAIN YOU'RE CURRENTLY UNDERGOING.
The truth is there are hundreds, maybe thousands of people who are walking through very similar trials as you. When your eyes are opened up to this, it makes your problems seem much smaller in the light of the larger picture of pain in this world.
Daniel and I spent a few conversations together over FaceTime. I'll never forget him asking me if I thought I was ready to date. What he didn't know (and what much of the world didn't know) is I was already dating someone and right about that time I was wrestling heavily with whether or not The Lord was leading me to propose to Kristi. Daniel proved to be a timely and trusted confidante in those conversations. He helped me see potential issues we may run into as we begin this remarriage-after-loss process. The Lord always seems to do this. You begin praying fervently for something like I was — "Lord give me extreme clarity on whether or not I should pursue marriage with Kristi" — and in His providence he drops someone in your life who is one or two steps ahead of you acting as a guide for God's voice in your life.
Last week my travels took me to Alpharetta, GA to speak at First Baptist Church of Alpharetta, and after the Tuesday night event was over I hopped in an Uber, rode across icy roads as the Atlanta area was getting hit with a very uncharacteristic winter storm, to sit down in the Brooker's home and make some new friends.
I walked into this quaint ranch style home that Brittany told me was her late husbands bachelor pad renovated and made-over in delicate feminine trimmings. Immediately my respect for Daniel climbed realizing he moved his two kids into his new wife's late husband's house — if it sounds complicated, it is. There is nothing simple about remarrying after loss.
They ushered me past two gray fabric couches facing each other, each clad in homey accent pillows. To the left I noticed built in bookshelves lining the wall. A shabby barn wood centerpiece finished off the wall while arrays of photographs peppered the bookshelves. My curiosity got the best of me while I hugged both Daniel and Brittany, and I strained my neck to see if any pictures of their previous lives made it on the shelves. To my right a long kids' table lined a wainscoted wall and pushed under the table sat five cute little chairs. Daniel and Brittany showed me in and led me to a marble topped island where Brittany displayed a spread of fruits, cheeses, chips and guacamole and warm sandwiches.
It was clear this couple had gone through painstaking effort to make their home a haven again after death had upended each of their lives. Almost immediately I could feel God's presence and a rich love permeating from every corner of this open concept living room and kitchen. As our conversation began I felt my eyes welling up with tears thinking about how sweet the Lord is for connecting me to such a faith-filled couple. I wish Kristi could have been sitting right there at that island with us as we talked about love, loss, joining complex grief-stricken lives, and how to walk young children through such excruciating pain.
We sat there for a few hours, though it seemed like only seconds, and talked about anything and everything. As we chatted I thought about how quickly you bypass the small-talk and dive deeply into heart level topics when you're sharing conversation with people who's perspectives have been shaped by tragedy.
SOMETHING ABOUT PAIN SEEMS TO CLARIFY TO US WHAT IS TRULY IMPORTANT …
… and trivial banter about the weather, sports, and the latest drama on The Bachelor no longer seems to have a place.
As the night grew later I suddenly remembered I needed to be up to catch an early flight back home. So I thanked them, we prayed together, took a couple of pictures to remember the night and they followed me to the front door. Before I reached for the doorknob a thought struck me so I turned around and began to process the thought out loud.
"YOU EVER THOUGHT ABOUT IF WHAT HAPPENS HERE ON EARTH IS MIRRORED IN HEAVEN?" DANIEL AND BRITTANY LOOKED AT ME CONFUSED. "I MEAN, JESUS PRAYED, LET YOUR WILL BE DONE ON EARTH AS IT IS IN HEAVEN. I WONDER IF CERTAIN MOMENTS LIKE TONIGHT ARE BEING MIRRORED IN HEAVEN."
"The three of us sat around a kitchen island and made each other's acquaintance while we shared our thoughts on trials and victories we're experiencing in our life. I wonder if even as we speak, Amanda, Patrick and Lindsey are meeting up for the very first time around a kitchen island in heaven, reminiscing about life on earth with us and our kids, and dreaming for the day we'll all be together again."
We stood by the door for a moment and let the thought sink in. I mean why wouldn't that be true? It seems very clear that God placed us on earth to live in community and build lasting, life-giving friendships. Why wouldn't the same be true in Heaven? I could see both Daniel and Brittany's eyes growing misty. I looked at them as I choked back my own tears. No words were needed in that moment. Something about believing that our late spouses weren't alone but had great friends to share heaven with seemed to give us all a new resolve. I thought about the day that all seven of us, old spouses and new, would be sitting around that heavenly kitchen island enjoying the very best of friendship.
WHAT A WONDERFUL REUNION THAT WILL BE.